as said Liz Sauchelli
the day i got it Colon cancer diagnosis, my husband and I bought a bottle of champagne. We were walking home from the hospital crying and I just said, "Baby, we should stop and get a bottle of champagne because we're going to toast to kicking cancer's ass and being on the other side of this thing." In the photo I have from the toast that day, our eyes are swollen with tears.
My cancer journey started about seven months ago, in January when I was 47 years old. I was dizzy, dizzy and feeling bloated. I wasn't having a full bowel movement when I went to the bathroom. My appetite had decreased and when I went to my OBGYN in March I was starting to see some blood in my stool. My doctor brushed it off and said it was hemorrhoids, but I pushed it back. agreed to give me an order fecal occult test to see if they can detect cancer.
The test came back negative, but still nothing felt, so I called my doctor again a few months later and asked him to set up an appointment. colonoscopy. In the months leading up to the procedure, my condition worsened. I could barely eat and the blood in my stool increased drastically.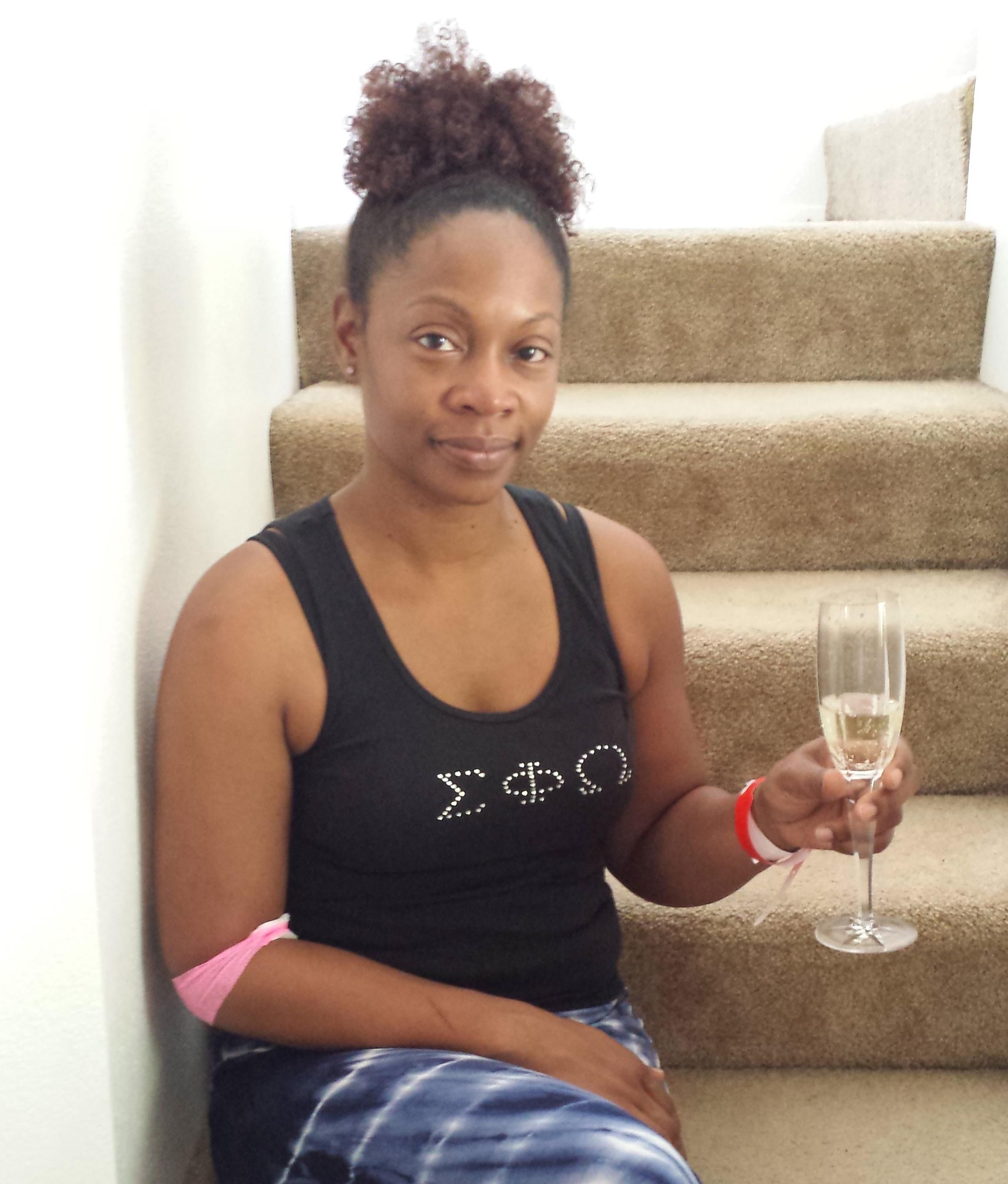 Kimberly celebrates "kicking cancer's ass" with champagne after her diagnosis, July 24, 2015.
But when I went to the consultation before my colonoscopy, the doctor wasn't even sure they would scan me. Then I showed him a picture of my bloody stool and his demeanor completely changed. I made an appointment for next week.
At that point, I knew something was really wrong, so when I woke up from my colonoscopy it wasn't a complete shock and the doctor told me I was the size of a fist, bad-tempered tumor inside me sigmoid colon. But he never said the word "cancer." My husband and I were laughing as we came out of the anesthesia, but I stopped. "Wait, are you saying I have cancer?" I asked. The doctor replied with a somber yes.
Everything has changed. The color of the room was different. I felt like a movie had fallen on my eyes, and from that moment on, I saw the world differently. Time seemed more limited.
At 7, 10, and 12, I was a busy stay-at-home mom and always on the go. At the time of my diagnosis, my children were visiting their grandparents in California, so my husband and I had a few weeks to process the news before I shared it with them.
Of course, they had a hard time because even though they were young, they knew the word cancer and equated it with death. We all started crying. I couldn't promise them I wouldn't die – I just didn't know. But I said to them, "Hey, we're going to fight this and do our best." And that's exactly what we did.
Life has become a whirlwind of doctor's appointments. I had six weeks of oral chemotherapy and 33 radiation treatments to my pelvis to shrink the size of the tumor. Then, 10 days before my surgery to remove the tumor, intestinal perforation and obstacle. One of my kids found me in a fetal position in the tub, and I told them to go and get the neighbors. When they lifted me up and dressed me, the ambulance took me to the hospital where I had emergency surgery.
Recovery was slow. After 10 days in the hospital, it took six weeks of occupational and physical therapy to start walking again. The really cool thing about it was that it helped me stop and smell the flowers, pick up things I would normally just pass by. While using my walker to walk around my neighborhood, I stopped to take flower and nature photos. For the first time I really started to appreciate the little things.
I tried to stay positive throughout the six months of chemotherapy following my surgery. Before going into chemo, I used to watch a comedy like "I Love Lucy" to lift my mood. I would do little exercises to get endorphins above.
As much as I try to be optimistic, there were many nights when I fell asleep crying because I was in so much pain. I allowed myself to grieve over the changing parts of my body and accepted that what I lost was important. Then I would focus on the fact that I am still alive, that there are ways to still enjoy life. I value it because I wake up next to my husband every day and spend time with my children.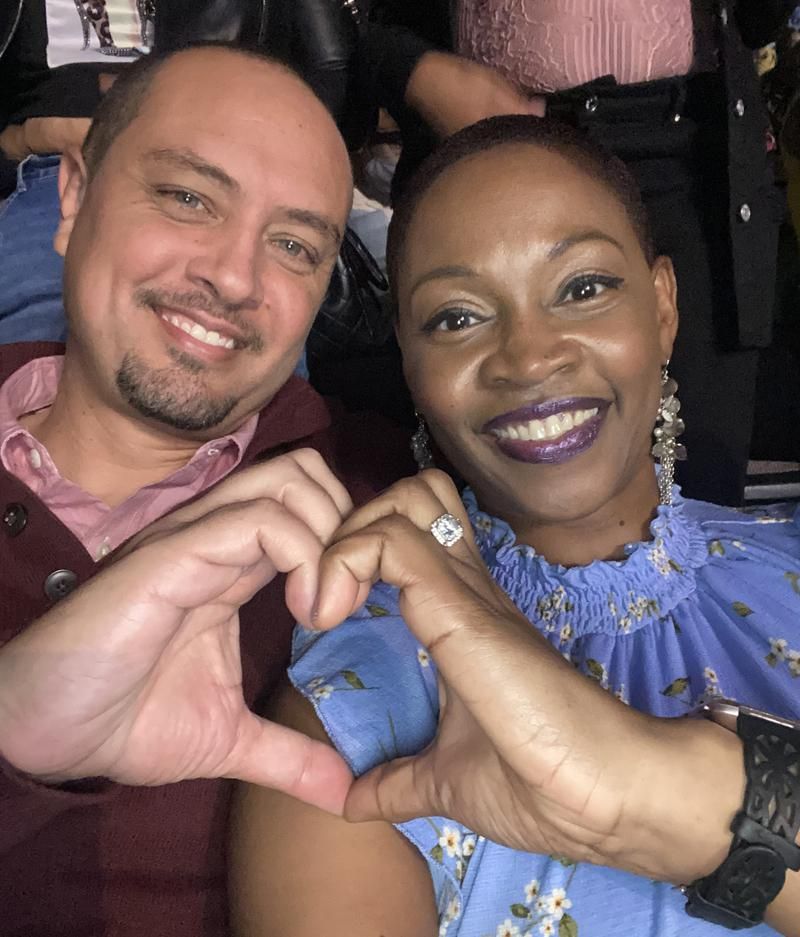 Kimberly is on a recent concert date night with her husband of nearly 23 years, whom she describes as "the most caring caregiver" of 2022.
Before the surgery I ostomy bag six weeks, but due to complications I have experienced, this timeline has been shifted to two years. I took it step by step. Two years later, I decided to keep the bag: Retriever surgery can be pretty tough for people, and I didn't want to traumatize my body any further.
I've had my ostomy bag for six years and it's been very liberating in some ways. After my diagnosis, I struggled with how I saw my body. After my body was weakened by the treatment, I wanted to regain my femininity and rebuild my strength. That's when I decided to dance.
Burlesque and pole dancing are art forms I've always loved to watch, but I never thought I'd try them. But after my diagnosis, I dared to do it. Pole dancing increased my strength after my body was weakened by the treatment. I also started performing, which helped me build my self-confidence and feel more comfortable in my body as I do now. I proudly show my ostomy bag when I dance. It's part of who I am and how I survived.
Five years after declaring I don't have cancer, I was diagnosed with cancer. ischemic colitis, which means the arteries in my colon are starting to die. I went through different medications and bed rest while doctors tried to find the root cause.
But I continue to keep my morale high. I dance, roller skate, and continue to advocate for people with colon cancer. I never thought that six years after my diagnosis, I would look back and be thankful that I had enriched myself on this journey. I take some time each day to focus on the fact that I'm still here – and I can still enjoy my life.
This resource has been created with support from Merck.